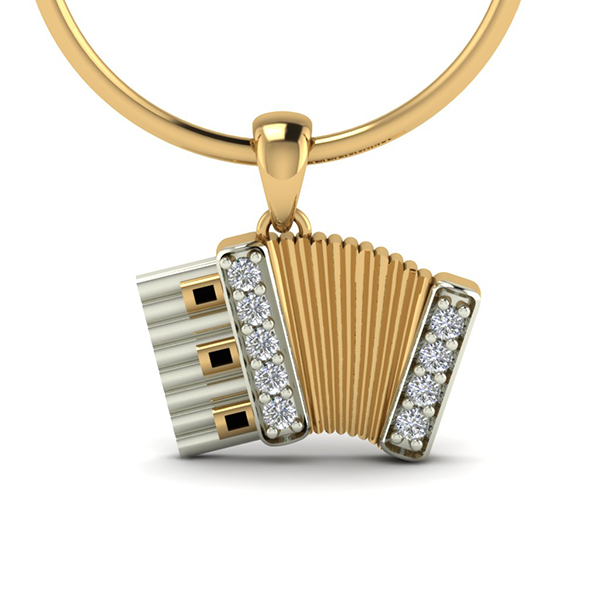 Keep your love for music close to your heart with this svelte Accordion pendant. Intricately detailed to mimic the design of the wonderful instrument, the pendant is a pleasant balance of gold and diamonds. This pretty small diamond pendant would make the perfect gift for anyone with a love of music. Adorn yourself with this pendant and pursue your dreams with passion!

This Accordion Pendant will add a touch of fantasy to your look. Â Just like how the Accordion produces different timbral options by combining different octaves, you can pair this pendant with different attires. A must-have piece of jewel for the creative soul in you!

Our expert jewellery makers handpick the finest quality of diamonds to create this fine piece of jewellery and shape it to perfection. This chic pendant will help you achieve a subtle style that will make heads turn around everywhere you go. Like all the jewellery at GAJ, the Accordion pendant also arrives in a special packing that is perfect for gifting.
Product Details
No. of diamonds
9
Diamond weight
0.135 Carat
Average Diamond Colour
GH
Diamond Shape
Round
Average Clarity
SI
Approximate Gross Weight
2.43 Grams
Width
16
Height
11
Setting Type
Micro Pave
Accordion Pendant